Canford Summer Fair
Join us for a weekend of Summer fun on the 20th and 21st of August, as we return to the beautiful Canford School and grounds. There really is something for the whole family to enjoy. Live music in the bar and Street Food picnic area. Kids Zone with rides and activities. Brilliant artisan food, drink and craft producers. All you need for your home and garden and our wonderful health and wellness area. Come early, stay all day. We can't wait to see you!
SatNav Location - BH21 3AD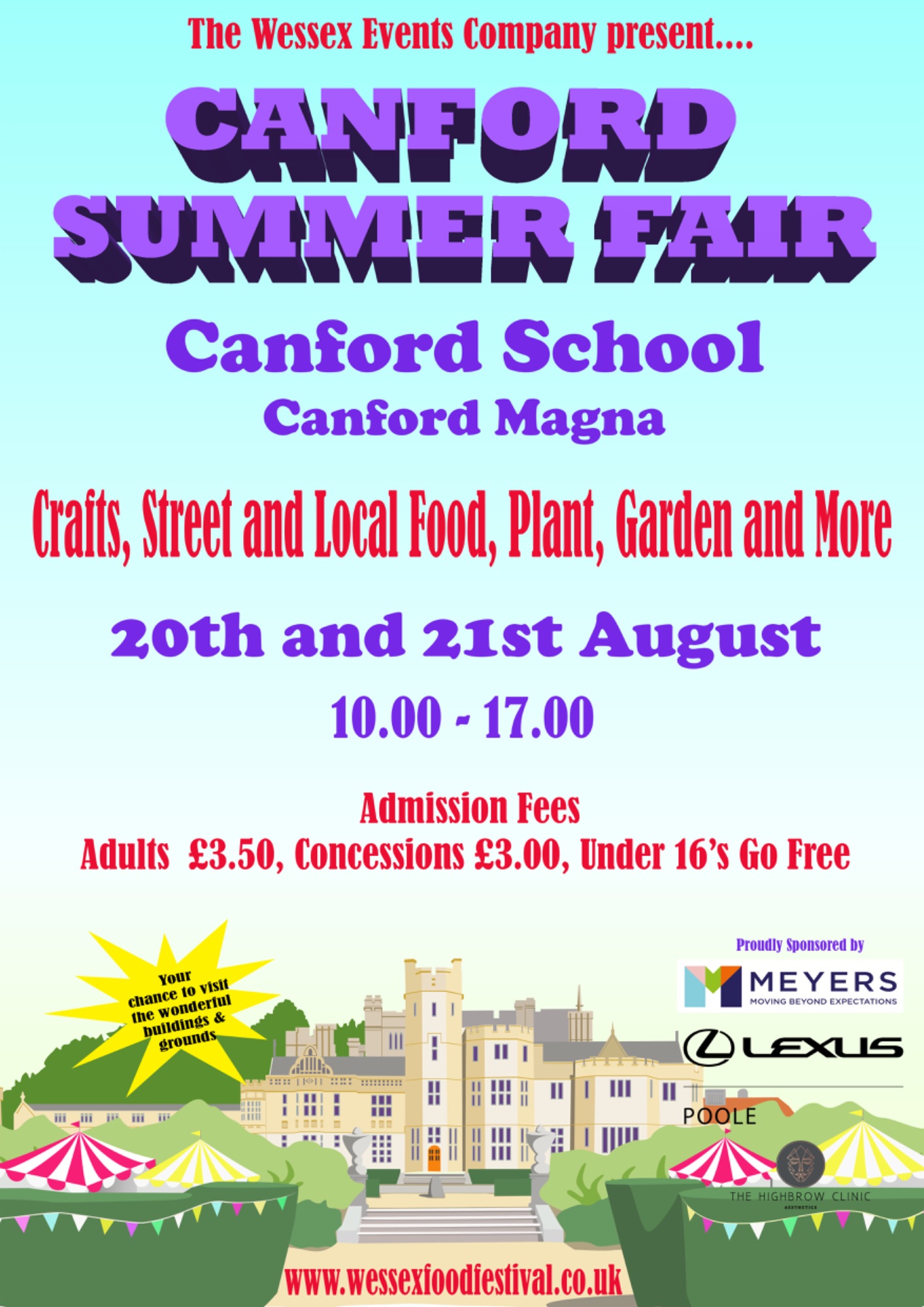 Trader Information.....
Inside Craft Stands
Les's Gems - Leather handbags, gloves etc
Slumbermonkey Designs - Homeware
Sue's -​Fabric crafts
Love your Rocks Jewellery
Vanessa Blunden - Fine Art
Shelley Mc - Jewellery
Yasmin Baxter - Limited Edition Fine Art Prints and cards
Julie Shortland – Sockies
Soft Furnishings Shack
Little Dove Candles and Infusers
KC Crystals
Spanish Steps, shoes and boots
Krafty Kows Paper craft
Angels Above
JR Sakes - Amazing Sharpeners
Flamingo Paperie
Beaux Bangles
Hele Jelly Childrens Aprons etc​​​
Ron Draper - Wood art
Old Green Homeware
Living Edge Wood craft
Leaping Fish hand made balms
Gerry' Fabric Gems
Mosaic​ - Children's Bereavement Charity
Oakley Finch, art card and homeware
Alchemy Jewellery
Usborne Books
Little Harbour - Driftwood art, pictures and scarves
Pia Elliott Art
Bumble Meadow Designs - Slate Coaster and hearts
Serenity Gifs - Crystals
Crafty Bird Designs Glitter Art
Allingham Games
Willow Tree Layne Hampers
Annette Brumage - Paper and Wood Crafts
Becky Davies​​​Forget-me-not Farm Fairy and Resin craft
Olivia Heavyside​​Jewellery
Sue Bland​​​Artist
M & C Fashions
Suzie Watson Designs
At the patch Creations
Alex Daniels Leathercraft
A Unicorn Moon
The Coastal Workshop
Nicola Louise Design UK
Inside Food and Drink Stands
Immaculate Collection chocolate nuts
Weymouth 51​- Chilli Sauces
Itssawrap
DB Desserts
Fordington Gin
New Forest Tea Company
Smith and Weston Gin Liqueurs
The Dorset Forager - Jams, Chutneys and marmalades
New Forest Shortbread
Outside Craft and Food Stands
Fiery Fox Candles
Galiani Glass
Gekko Art
Watkin Fine Art Prints
MoeJo Creations – Vintage Lighting
Knot Likely Macrame
Dorset Wildlife Trust Charity
Forget me Knot Jewellery
Dorset Eco - Environmental Products
Ocean Influence Art
Bournemouth Bag Company
Root and Branch Dorset
Hammam Towels
Off The Beach 'n' Track - Driftwood
CKG Ceramics
Eddie and Matilda - Vintage Antiques
Coco Bags
Sarah Storm Jewellery
John Shackelton Jurassticks
SCT fudge, crackling plus
New Forest Shortbread
Grounded Coffee
MKS ​Mediterranean Deli
Farm Girl Sausages
Stony Grove Condiments
Recettes Sucree
Honey Mae
5th Avenue
Boutique in a Bus
Ironworks of Distinction
Outside Nurseries, Garden Accessories, Health and Wellbeing
Northbrook Nursery
Peakes Perennials
Bridport Fly Catchers
Brixworth Wood craft Pergolas and Planters
Boucherete Bird Tables
Parks Perennials
Highbrow Aesthetics​
Wimborne Wellness​
Street Food
Bratwurst UK
Dorset Lamb
Hidden Pizza
The Thai Hut
Off Grid Espresso
The Copperstill Bar
Cheeky Fox Churros​
Purbeck Ice Cream
Entertainment
Emma Hardy
Phil Smith
Children's Entertainment
Circus Workshop
JM Leisure
Les Benham, Rides, games, Bouncy Castles and slides
Sponsors
The Hendy Group
Highbrow Aesthetics
Meyers Estate Agents